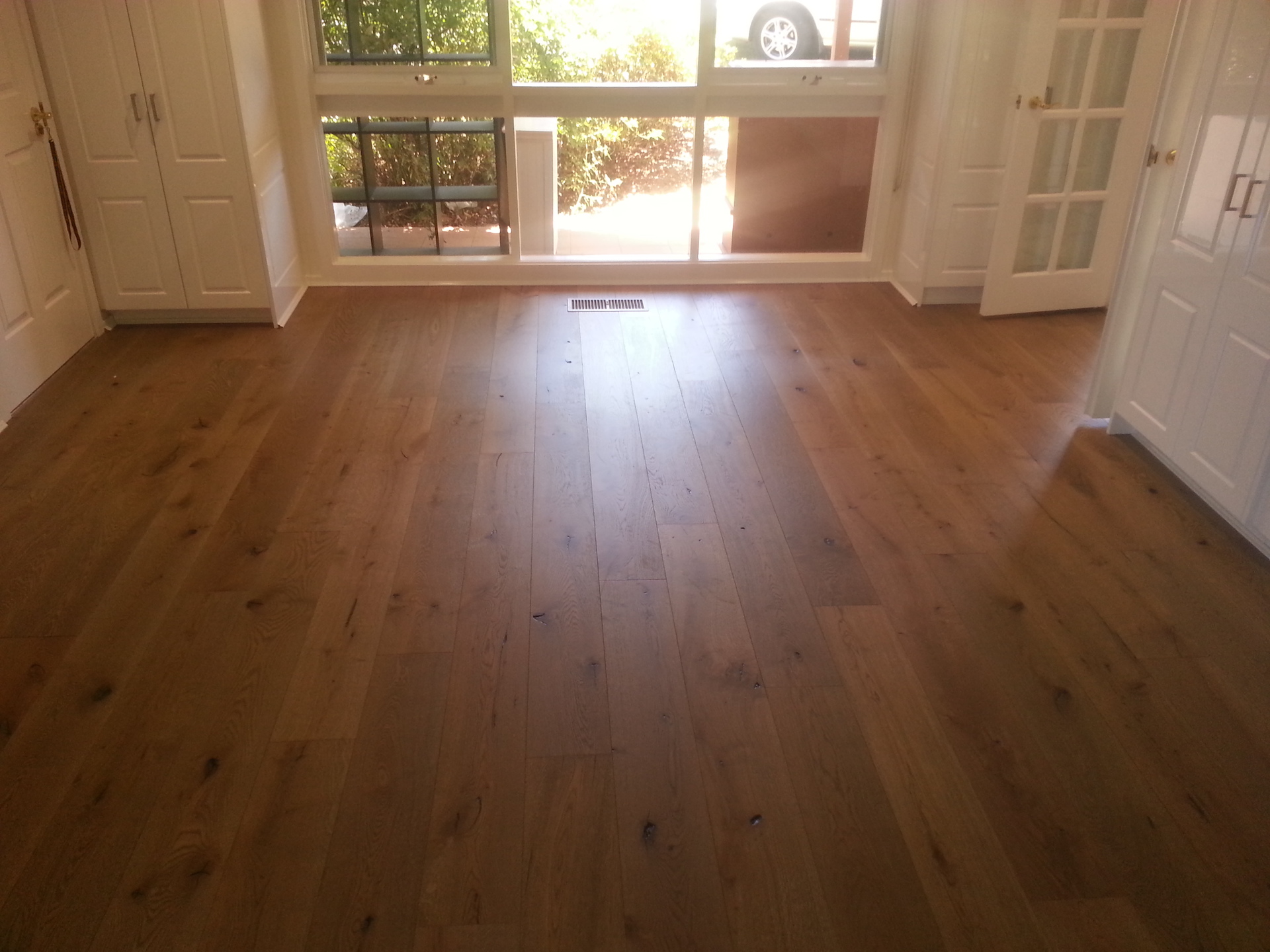 At Ash Timber Flooring, we are here to help!
FAQ's
What is the difference between hardwood, engineered and floating floors?
Hardwood is generally referred to as a solid timber floor, it becomes part of your structure and therefore is recognised as load bearing. Engineered boards have a veneer of timber of your choosing up to 4mm thick that is glued to a ply construction this minimizes the expansion and contraction of the timber allowing it to be laid as a floating floor or directly stuck to the substrate your property.
Why does hardwood cost so much more than floating?
A hardwood flooring will last much longer than any floating floor because it can be treated or sanded and coated multiple times. A solid timber floor once laid speaks for itself and adds great value to your prized asset.
What benefits do I get with an engineered vs laminate floor?
A laminate floor has a very hardy surface and has a good life expectancy, an engineered because it is timber has a unique surface of grain and knots, because it can be sanded it has a longer life than laminate floorboards.
Tell me the benefits of a bamboo floor?
Bamboo is a green/renewable product that is grown and replanted after being harvested, it has a strong hard surface that is harder than many of the hardwood timbers boards, it has a unique grain/strand effect of the face of the board and like other timber flooring products it gives a warmth to the touch unlike tiles.
What is the difference between direct stick and floating?
Like the names represent direct stick is where a floor is stuck directly to the substrate of the structure whether it is a concrete slab or a yellow tongue suspended or mezzanine floor. Defferent types of glue and other applications are used depending on what type of structure it is, for instance; a concrete slab that is on the ground floor requires a waterproofing membrane, that can be provided in the glue, and also acoustic dampening is available for those that are conscientious about sound. A Floating floor is glued or 'clicked together' forming the floor but is not directly stuck to the substrate, underlays are used for water proofing and acoustic purpose and they sit in between the substrate and the floorboards.
How much does a floating floor cost?
The cost of a floating floor can have a wide range due to the selection of board, Ash Timber Flooring has developed a calculator to help explain how much your next project can cost.
What are the things I should consider when budgeting for a timber floor?
It is a great idea to feel comfortable making a good decision about your new floor, so ask as many question as you can, we love timber floors and make it our business to know all that there is to about the floorboards that will become part of your home.
What is the best way to measure my floor space for a timber flooring quote?
Some customers like to measure up themselves and this is easily done by separating your house into easy sqaures or rectagles for instance bedrooms and hallways. Or you can get a tradesman to give you a quote and they can come out and measure up for you.
What should I do to prepare my home for timber flooring? What should I do the day before a tradie arrives?
A tradesman will call you a day or two before the commencement of work to organise a good time to start the work, and access to the property. Making sure there is clear access is a big help and always very much appreciated
How long does it take to install timber flooring? Does that differ between flooring types?
A solid timber floor takes a much longer process and that is also because it will be part of your lives for possibly the entire life span of the house, generally for a medium to large size home can be completed in 1 to 2 weeks For direct stick and floating floors they can be laid in one day for a couple of small rooms and about a couple of days for a medium to large house.